I recently aquired this original oil painting, and I'm proud to say that it is my favorite piece in my entire collection.
Page...if you're out there...PLEASE email me! You are the BOMB!!!!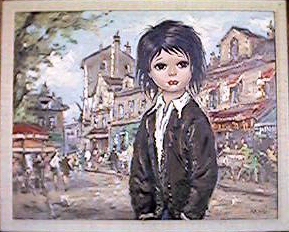 I recently found this gorgeous, sad "Madonna" painting:
Ah, don't I wish I had an original Gig oil painting! Well, since I don't, I've decided to grab every quality big eye oil "knock-off" I can find.
Anyway, here's the one I do have: