The doll Big Eye collectors covet most is "Little Miss No Name", manufactured by Hasbro in 1965. She really needs to have the original clothes, and original "teardrop" on her cheek to sustain her high value. I've seen this doll go from $35.00 to $1000.00, depending on her condition, and pure luck. I've heard that she has even brought more $ at charity auctions. Here's my LMNN. I haven't named her yet. Any suggestions?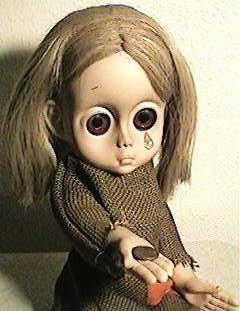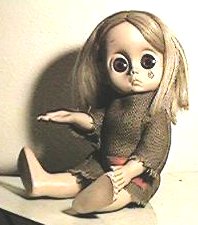 Kamar manufactured Big Eye dolls as well. I'm certain there are more than what I have in my collection, but I love the ones I have!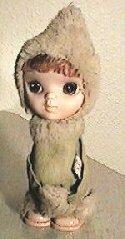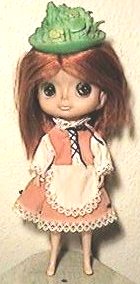 Blythe was manufactured by Kenner in 1972. She has a groovy feature: When you pull her string, her eyes change color and direction! My poor little Blythe doll is missing her right eyelashes.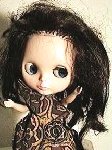 I believe the name of this set of dolls is "Sad Eye Susie", but I'm not certain:
If you have seen any other dolls, or have additional information about the dolls shown here, please e-me...

Click HERE